THE VILLA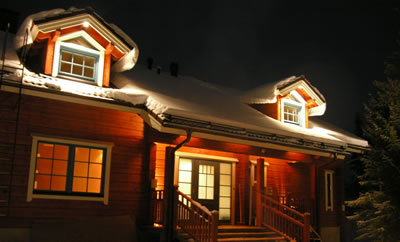 Nipashovi in december 2005
The villa is a three floor loghouse with more than 300 m2 of luxurious space. Together with the main house there is a separate 20 m2 sauna with a pier to the lake. Further more there are 200 m2 covered terraces, a sun terrace of 36 m2 and a 48 m2 playground.
You just can't ask for more space.
The villa is heated with comfortable floor heating and economical heat pumps. These pumps will cool down the air in the summertime.

Cellar floor
The cellar floor is dedicated for leisure. In the winter You can service your skies in the well built ski service room. A ski bench and an iron will be at your service and if you need some ski wax, please let us know. You can of course let trained people do this service for You at Tahko village.
After skiing You can do laundry or other cloth service in a dedicated room. You can dry all damp clothing and skiing shoes in a dryer. Afterwards You can do ironing, if that´s what You want to do.
The big sauna and a cosy bar are the pearls in this cellar floor. After a relaxing sauna You can have a luxury bubble bath. After all this treat You can do some barbequing in the bar area and watch a movie from the high end 32" flat screen home theatre.
take the mouse over
1 st floor
The 1st floor is a floor of action. The living room and the dining room together form a great space for meetings and trainings. A good air conditioning and cooling guaranties a relaxing space for your events whether they are related to business or your free time. You can use the 50" flat screen TV, home theatre system, dvd –player, video, cable channels, broadband connection, white board and pens and paper. In a meeting You can connect several laptops wireless, because a WLAN base is a part of our service. You can also view slideshow presentations (powerpoint, dia, video/audio) through the flat screen TV. At your own free time nothing stands between You and the world, because the broadband is at your service.
take the mouse over
The high living room is the heart of the villa. This is where You spend your time if quality time is needed. It´s your choice whether You prefer time next to the fireplace or at the digital home studio, or both. The high class home studio is enough to keep You indoor for the rest of your stay
When You get hungry there´s a quality kitchen with all equipment at your service. There´s a fridge, microwave and a stove. A look in the cupboards shows a complete set of dinnerware for 48 persons. Naturally there´s a coffee cooker and a toaster. If You don`t want to eat out You can also use the raquelette or fondue equipment.

The dinner table can take up to 14 people at one time and if more space is required it´s also feasible.
In the 1st floor You find three cosy double bedrooms. and a great terrace with an open fireplace for a romantic barbeque evening
The loft
The loft is the upper floor in the villa and a restricted area only for people who want to rest. Three double rooms guarantee a good night sleep.
take the mouse over
In each of the floors there is naturally a toilet.